| | |
| --- | --- |
| MELBOURNE'S WATERFALLS - 314 WATERFALLS WITHIN !00km OF MELBOURNE | |
When I started this project if someone had told me there was a 75 metre high unmapped waterfall within 100km of a city of four million people I wouldn't have believed them. The fact that this is merely the tip of the iceberg has been a revelation.
In 2007 I began a quest to visit every waterfall around Melbourne, imagining it would take me a few months to complete. The eight year journey of discovery I have been on since then has been beyond all expectations. After visiting all the waterfalls on current maps, I started finding other drops in old books, photos and vintage maps. As my familiarity with the terrain around Melbourne increased, I began wandering down likely gullies and started finding undocumented waterfalls. This slowly expanded into a systematic examination of the topography of all likely waterways around Melbourne, and to my amazement has resulted in many more waterfall discoveries. This trilogy is the result and documents all the waterfalls I could find both popular and unmapped within a 100km radius of Melbourne.
Of the 314 waterfalls and 109 water features of interest (in total containing 673 tiers) that I have found near Melbourne, 166 of these to my knowledge have never been documented before (39%). Although 122 of these waterfalls are marked on current maps, only 46 of them have officially registered names, with another 35 having recorded names. Through extensive research I have unearthed another 98 from historic maps, books and old pictures. I have found out about another 37 through word of mouth. The remaining 166 drops I have discovered by simply wandering down likely watercourses with conducive topography and geology to see what was there. Because of this I believe this trilogy is a unique and a valuable addition to our geographic knowledge of this area. It is also jam packed full of beautiful waterfall photography, access directions, historical information and anecdotes about the discovery of those drops that till now have been virtually unknown to the general public.
Due to the sheer quantity of waterfalls I have found it was impossible to include them all in one book so I have released 'Melbourne's Waterfalls - 314 Waterfalls within 100km of Melbourne as a three volume set.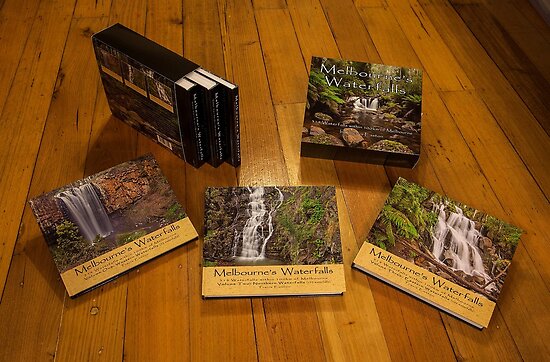 Area's covered by each volume.
Volume One – Western Waterfalls
A 134 page hardcover book that documents 53 waterfalls plus another 29 water features of interest (like rapids, smaller cascades and spillways). It sells for $29.95. A preview of a few pages of this book can be found on blurb (preview is from an old proof).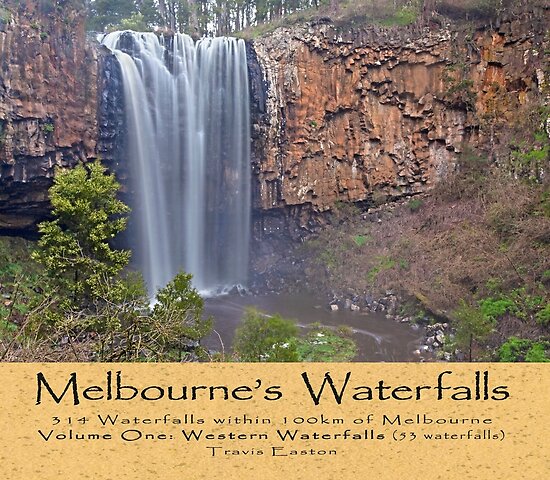 Volume Two – Northern Waterfalls
A 254 page hardcover book that documents 155 waterfalls plus another 23 water features of interest (like rapids, smaller cascades and spillways). It sells for $39.95. A preview of a few pages of this book can be found on blurb (preview is from an old proof).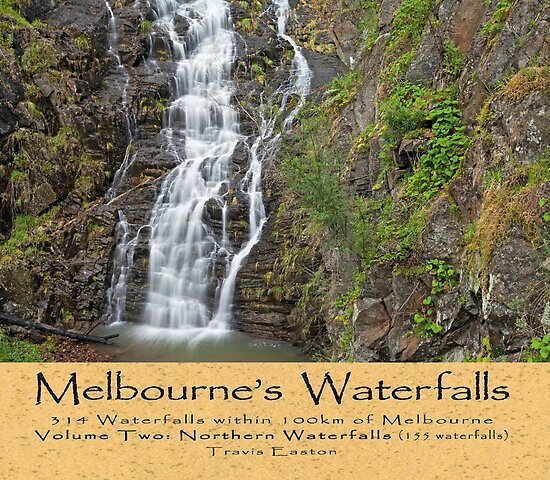 Volume Three – Eastern Waterfalls
A 248 page hardcover book that documents 106 waterfalls plus another 61 water features of interest (like rapids, smaller cascades and spillways). It sells for $39.95. A preview of a few pages of this book can be found on blurb (preview is from an old proof).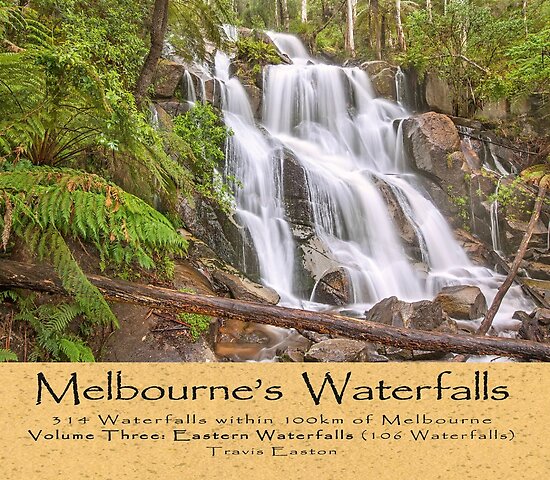 Melbourne's Waterfalls – 314 waterfalls within 100km of Melbourne Box Set
The three volume box set sells for $99.95.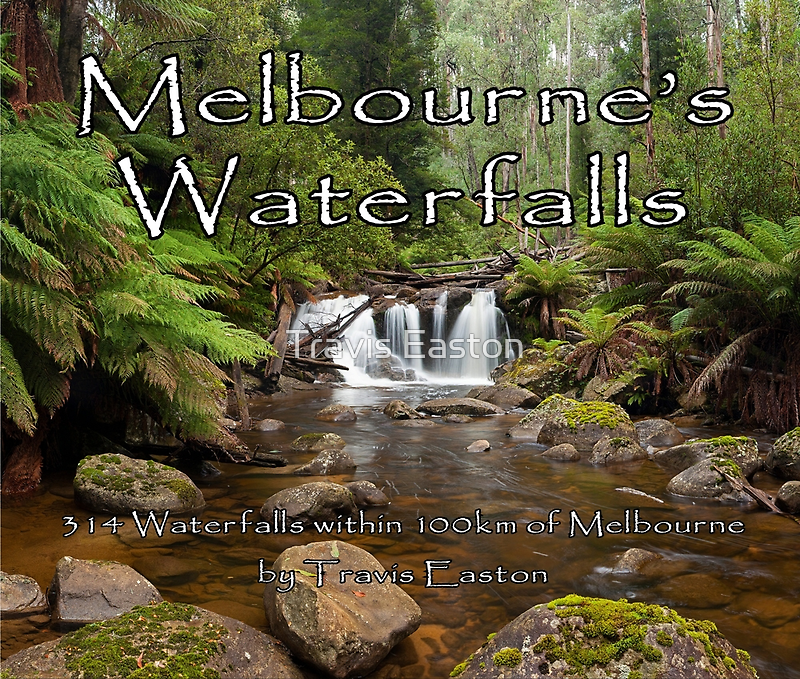 Each waterfall covered includes a picture of each tier and an information panel which details:
Name:

Watercourse:

Catchment:

Type:

Number of tiers:

Overall Height:

Highest single drop:

Angle:

Length:

Altitude:

Season:

Geology:

Co-ordinates:

Map:

Distance from Melbourne:

Suburb/ Closest Town:

Road Access:

Foot Access:

Park/ Property:

Facilities:
Along side this information panel is a short blurb on each waterfall which can include historical quotes, anecdotes regarding its discovery or any other point of interest.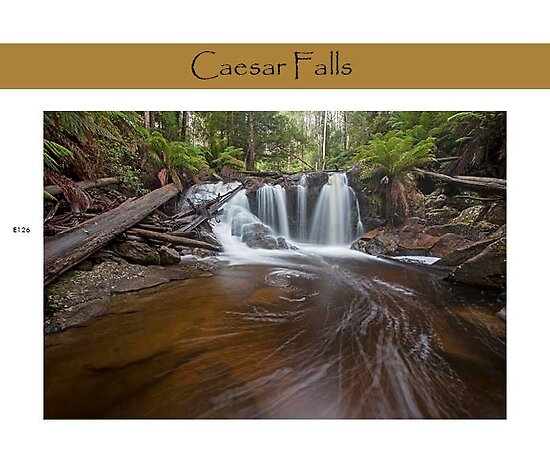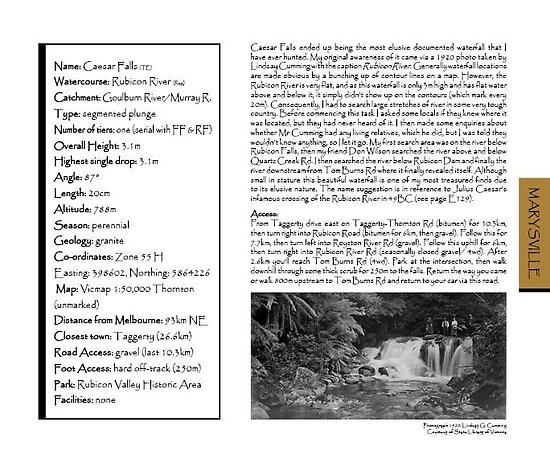 Reviews/ Endorsements:

'To sit by a waterfall and consider its beauty and other such wonders of our world is always a great joy. I once sat by Victoria Falls in Africa for two days and did not want to leave. The waterfalls in our part of the globe are not so massive but they are certainly draw-cards.
Waterfalls to me as a bushwalker are one of the more attractive of natural features. I thought I had a good knowledge of the waterfalls of Victoria and frequently use them as a focus during walks undertaken. However, I am amazed that there are so many more waterfalls than previously known to me and especially so close to Melbourne.
I congratulate Travis on locating and publicizing such an inspiring number of waterfalls. His enthusiasm to explore using logic, geology, historical sources and cartography is obvious.
Travis Easton informs, advises and inspires on every aspect of waterfalls. He explains access and background information. The themes are well balanced by stunning photographs of each waterfall. The result is an excellent reference for all nature lovers and armchair readers.'
Tyrone Thomas
Author of Australia's most successful bushwalking guidebook series.


'You are one of these rare people in this world that change the way everyone else sees things. You have a rare gift and the ability to be comfortable being alone doing your amazing work. I do not have this, though deeply admire those that do (including yourself).'

David Hibbert
Driving force behind artworkz, esplash, ePhoto Graphic & ePic magazines


'I haven't been told who will be taking on the role of championing Vicmap Hydro as yet, but I have let the manager of that section know that we have some reliable waterfall updates to go into the library and I have offered my services (limited as they may be) to assist the officer in getting started and hopefully pass on my enthusiasm for the waterfall update work we have been doing.
On a personal note, I feel very privileged to have been able to meet you and Shivanee through my role as Vicmap Hydro custodian, and I hope that my successor will be as passionate about 'getting it right' and continue supporting you in ensuring the waterfall information in Vicmap gets corrected.
It is pleasing to know that there are passionate people such as yourself who care enough about the natural environment to want to accurately document what is there so that future generations can benefit from your investigations.'
Darren McKinty
Former Vicmap Hydro custodian
'Photographer and WILD contributor Travis Easton began researching waterfalls around Melbourne in 2007, a hobby that has since culminated in an exhaustive, three-volume set of hardback books. Each title is divided by region in order to cover every one of the 314 geological features Easton has identified. Using a definition that includes any drop of three metres or more on a mapped watercourse over rock, the adventurer has compiled a resource that can only be described as singular and unequaled in its field. Whether visiting Melbourne or born-and-bred, these books will serve to expose a secret side to Victoria's capital that few would expect to exist. While some of the listed falls aren't accessible as they lie on private property, many more would be considered for a weekend visit.'
Campbell Phillips: WILD - Australia's Wilderness Adventure Magazine, Issue 149, Sept-Oct 2015


'I have so enjoyed reading your text and reflecting on your words. It is rare to find such candid and heartfelt observations in the course of reading anything, but you have bared enough of "the essential you" in such a natural and unprepossessing way, that few will doubt your sincerity and passion for the subject at hand.
While many will "connect" with your beautiful images, and others with your fine grasp of the technical aspects, there are those whose love of life and all that is in this earthly realm who will "sing that same song" that shines forth from your heart. As such, reading this book will be a blessing for many, and whether they "know why, or not" won't matter.'
Bruce McIntyre


'The natural world, and waterfalls in particular, are places where I feel at peace. When I sit at the foot of a waterfall with my senses immersed in the beauty of my surroundings, I can't help but be in awe at the wonder of creation. Waterfalls flow with life and in their presence I feel alive.
Over the years I have visited hundreds of Victoria's waterfalls and I have found many hidden and forgotten ones. I have shared many of these finds on the numerous bushwalking club trips I have led and feel strongly about promoting these wonderful places with fellow nature lovers. In fact my desire to find, document and map as many of Victoria's waterfalls as possible has become somewhat of a life quest.

It has been a great joy for me to see a new generation of waterfall enthusiasts emerge to continue to build on the work that has been such an important part of my life. It is therefore a great a honor to contribute the foreword for 'Melbourne's Waterfalls - 314 Waterfalls within 100km of Melbourne'. This book is ideal for the individual, the bushwalker, the artist and the photographer. It has an excellent layout with easy to find information and documents many magnificent waterfalls. A large proportion of these have until now been unknown to the general public.

I would like to acknowledge all the effort and research Travis has undertaken in speaking to individuals, going to libraries, historical groups, Parks Victoria, Department of Environment, Land, Water and Planning and researching different maps to collate the interesting information contained in this trilogy of books.

The photography and historical images are excellent and I can appreciate the hard work that Travis has undertaken to get to these magnificent places. The average person would not comprehend the amount of photographic equipment, time and expertise it takes to capture these fine images. I also appreciate Travis' efforts to share this skill in his 'Waterfall Photography Guide' at the conclusion of this book.'

Shivanee Mansfield (formerly living as Phillip Larkin)
Victorian bushwalking and waterfall bagging icon.
'I want to congratulate you on a magnificent achievement and what was obviously a labor of great love. My mind boggles, rather, at the realization of the amount of research that you undertook for all the waterfalls. Thanks for the very clear instructions about accessibility and, of course, the wonderful photographs. I love waterfalls, too, and have already penciled inside the back cover of one volume the names of a few that I have never been to and that I think my aged legs will be able to reach.'
Bette Devine
Conservationist photographer
Availability:
The eShop page on this website
Melbourne Metro
BELGRAVE: Belgrave Book Barn, 1630 Burwood Highway

BENTLEIGH: Benns Books, 437 Centre Road

BOX HILL: Wilderness Shop, 969 Whitehorse Road

BURWOOD EAST: Photobarn East Burwood, Shop 172 Burwood Highway
CROYDON: Collins Booksellers Croydon, 132 Main Street
CROYDON: Croydon Camera House, 125 Main Street
ELTHAM: Eltham Bookshop, 970 Main Road
KALLISTA: Grants on Sherbrooke, 70 Monbulk Rd
MALVERN EAST: Melbourne Map Centre, 740 Waverley Road
MELBOURNE: Paddy Pallin, 360 Little Bourke Street
MOONEE PONDS: Collins Booksellers Moonee Ponds, 67 Puckle Street
MT EVELYN: Kuranga Native Nursery, 118 York Road
PRAHRAN: Andrew Isles Natural History Books, Rear of 115 Grenville Street
SASSAFRAS: Wise Possum Nature Shop & Gallery, 389 Mt Dandenong Road
St KILDA: Readings St Kilda, 112 Acland Street

more to come...
Regional areas
ALEXANDRA: Alexandra Newsagents, 82-84 Grant Street

ALEXANDRA: Alexandra Visitor Information Centre, 36 Grant Street

BACCHUS MARSH: Collins Booksellers Bacchus Marsh, 137A/1 Main Street

BALLARAT: Ballarat Regional Tourism, Town Hall, 225 Sturt Street

BALLARAT: Collins Booksellers Ballarat, 80 Bridge Mall

BALLARAT: Collins Booksellers on Sturt, 222 Sturt Street

BELGRAVE: Belgrave Book Barn, 1630 Burwood Highway

BUXTON: Buxton General Store, Maroondah Highway

DAYLESFORD: Daylesford Regional Information Centre, 98 Vincent Street
DAYLESFORD: Paradise Bookshop, 48 Vincent Street
GEELONG: Paton Books, Shop 3, 329 Pakington Street, Newtown

GISBORNE: Book Bonding, 3/29 Hamilton Street

GISBORNE: Gisborne Newsagency, Gisborne Village Shopping Centre
INVERLOCH: Inverloch Visitor Information Centre, A'Beckett St
KALLISTA: Grants on Sherbrooke, 70 Monbulk Road
KINGLAKE: Kinglake Post Office, 14 Main Road
KINGLAKE WEST: Flying Tarts, 888 Whittlesea - Kinglake Road, Pheasant Creek

KORUMBURRA: Coal Creek Community Park & Museum, 12 Silkstone Road

KYNETON: Aesops Attic, 70 High Street
LEONGATHA: Leongatha Newsagency, 30 Bair Street
MALMSBURY: Rathdowne Antiques & Gifts, 73 Mollison Street

MARYSVILLE: Marysville Lake Mountain Visitors Centre, Lot 5 Murchison St

MT MACEDON: Mt Macedon Trading Post, 686 Mt Macedon Road

NARBETHONG: Mystic Mountains Ski Hire, 631 Maroondah Hwy

SASSAFRAS: Wise Possum Nature Shop & Gallery, 389 Mt Dandenong Road
SUNBURY: Collins Booksellers Sunbury, 27 Evans Street
WARBURTON: Yarra Valley Showcase, 3401 Warburton Road
WHITTLESEA: Whittlesea Courthouse Information Centre, 74 Church Street
WONTHAGGI: Wonthaggi Visitor Information Centre, 1 Bent Street

WOODEND: New Leaves, 81 High Street

YARRA JUNCTION: Yarra Junction Post Office, 2459 Warburton Highway

YEA: Y Water Discovery Centre, 2 Hood Street

more to come...